Thanksgiving means different things to different people. Food. Family. Football. Falloons.
If you're wondering, a "falloon" is one of the giant balloons at the Macy's Thanksgiving Day Parade.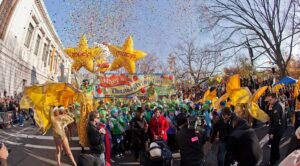 Over 50 million Americans watch the parade every year. The parade, one of the country's oldest, started in 1924 in Manhattan. After its TV debut in 1948, it went from being an NYC tradition to a national one.
Each year, about 3 million people brave the cold and crowds to see the parade live in New York. Others watch it on TV while the turkey roasts.
But there's another way to experience the excitement of the Macy's Thanksgiving Day Parade. And it's right in Orlando, at Universal Studios.
Universal's Holiday Parade featuring Macy's
When the Macy's Parade ends, those massive falloons have to go somewhere. Most go to a warehouse in New Jersey.
But after the 2002 parade, Macy's sent some of its balloons down to Universal Orlando. And a new tradition was born: Universal's Holiday Parade featuring Macy's.
The parade runs nightly through the late fall and early winter. It delivers the magic of the Macy's Parade, but with warmer weather and calmer crowds.
Macy's eventually stopped sending falloons from NYC and started making custom ones for Universal. This has allowed Universal Studios to start the parade earlier in the season. In 2022, Universal's Holiday Parade featuring Macy's will run from November 12 – January 1.
The half-hour parade runs through Production Central at Universal Studios. Wave to friends from Despicable Me, Shrek, and Madagascar as they march in their holiday best.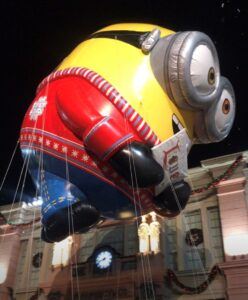 The parade also features clowns, dancers, stilt-walkers, and iconic Macy's starflake balloons.
Like the New York parade, the Orlando one ends with a visit from Santa. As he lights up a giant Christmas tree, flurries will gently float around you. In sunny Florida, the nightly snowfall is a true Christmas miracle.
Depending on when the park closes on a given night, the fun starts at either 5:30 or 6 p.m.
The parade is included with park admission.
Holiday Cheer is Universal
While you're at Universal Orlando Resort, be sure to enjoy the park's other holly-jolly attractions.
Universal Studios' Diagon Alley will sparkle with lights and holiday décor. So will Hogsmeade at Islands of Adventure. Both sides of the Wizarding World of Harry Potter will also feature holiday tunes. Sing along to the musical stylings of Celestina Warbeck or a choir of talented frogs.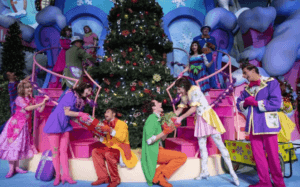 Islands of Adventure is also home to the annual Grinchmas celebration. Explore Whoville, enjoy stage shows, and meet Mt. Crumpit's most infamous resident.
Parade Back to Rosen Shingle Creek
After Santa Claus heads back up Santa Claus Lane, board a theme park shuttle to Rosen Shingle Creek.
Our Orlando hotel has everything you need for a perfect holiday getaway. In addition to easy theme park access, we have fun activities like volleyball, golf, and hiking.
We also offer fantastic on-site dining. If you're staying for Thanksgiving or Christmas Day, save your spot at our tasty holiday buffet.