Thanksgiving. The word evokes feelings of family, friendship, and, of course, fantastic food.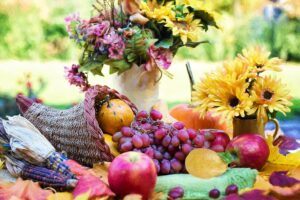 A home-cooked Thanksgiving feast can be so satisfying. But there's something to be said about dining out. For one, eating at a restaurant means more time spent together. Nobody gets stuck in the kitchen while everyone else is chatting or watching football or the parade.
You're also guaranteed an excellent meal — no burnt turkeys or other kitchen mishaps.
If you're a local looking to simplify your holiday or a visitor planning a November trip to Orlando, eat at Rosen Shingle Creek. Our buffet restaurant, Café Osceola, has the recipe for a perfect Thanksgiving Day or weekend.
A Buffet with a View
Head to our Orlando hotel on Thursday, November 24, 2022, to see what we're cooking up. The Thanksgiving buffet runs from 11 a.m. – 6 p.m.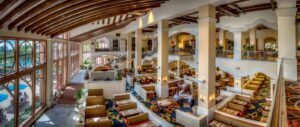 Our dining room features floor-to-ceiling windows that showcase our lush tropical landscaping. After admiring the palm trees, head to the buffet for your first round of food. Go traditional with a plate of free-range turkey and mashed Yukon Gold potatoes. Or give thanks to culinary diversity with international dishes like bao buns, sushi, and paella.
We have vegetarians covered, too.
Meatless options include flavorful kale salad, brie toast, and a make-your-own pasta station.
Save room for dessert. Café Osceola will serve fall staples like apple pie and pumpkin cheesecake. Chocolate lovers can indulge in our fabulous fondue fountain. If you're all for fruit flavors, end your meal with Key lime pie, a raspberry tart, or luscious caramel apple crème.
See our Thanksgiving webpage for the full menu.
Celebrate with a Cornucopia of Savings
The extravagant Shingle Creek Thanksgiving buffet costs $89.95 per adult. Reservations are recommended.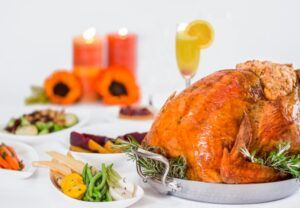 In addition to a delectable meal without any prep or cleanup, you will enjoy free self-parking. Guests 21 and older can also sip on bottomless champagne and mimosas. Discounts are available for children 4-11 and Florida residents.
And if you're sharing your Thanksgiving table with kids 3 or younger, they can eat for free.
Our Thanksgiving buffet is open to all diners, not just hotel guests. However, we invite you to take advantage of our Big Four stay package. This Orlando vacation package comes with deluxe accommodations for four guests for four nights.
You'll also enjoy dining and parking discounts, free Wi-Fi, and free theme park shuttles (with a reservation).
The Big Four package covers stays from Sunday, November 20 – Thursday, November 24, 2022.
Rosen Shingle Creek: Your Thanksgiving Home Away from Home
At Rosen Shingle Creek, we offer more than a bountiful Thanksgiving buffet.
Work up an appetite while enjoying our nature trail or volleyball, tennis, and basketball courts. After you eat, return to your spacious Spanish-revival guestroom for a nap in a cozy Creek Sleeper bed. Recover from Black Friday shopping at our on-site spa.
Then, spend the rest of Thanksgiving weekend catching up with family and friends poolside or at our award-winning golf club.