Every year in Orlando there are two major food festivals: EPCOT's Food and Wine Festival and SeaWorld Seven Seas Food Festival.
This year's SeaWorld Seven Seas Food Festival occurs every weekend (Thursday through Sunday) from February 4 to May 8, 2022. Here's what to expect this year.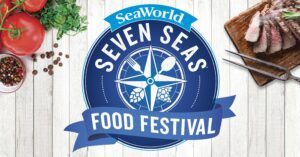 1.    The Food
SeaWorld Seven Seas Food Festival serves up so much variety in food that there really is something delicious for everyone.
This year there will be a range of outdoor markets with different styles of food like Latin, European, Polynesian, Asian, North American, and more. There are more vegetarian and vegan options as well this year. Expect 75+ brews, 50+ foods, and 75+ wines, seltzers, and cocktails equaling over 200 offerings.
Below is a list of the different markets:
Café De Mar
Caribbean Market
All American Market
Polynesian Island Market
Italian Market
Taste of Sicily
North Atlantic Market
Ireland Market
Mama's Pretzel Kitchen
Mediterranean Market
Brazilian Market
Asian Market
Vegan Market
Sweets Market
German Market
Gulf Coast Market
Mexican Market
2.    Seven Seas Food and Beverage Sampler Lanyard
Sample the different offerings and get the best bang for your buck with the sampler lanyard.
The festival offers two types of sampler lanyards. For $60 you can try 10 samples and for 15 samples for $75. It is recommended to use the sampler punches for food instead of drinks to get the best value.
3.    Music
SeaWorld Orlando announced there will be 28 headline acts this year for the food festival.
The performances will be in the Bayside Stadium. Last year the concerts were on Saturdays and Sundays. For those who want to keep sampling, the live concert audio will be playing in select areas of the park.
For people who want to experience and watch the live performances, know that the outdoor concert arena has reduced compacity and the seating has been changed to follow social distancing.
The quickest way to get to the stadium is to pass Flamecraft Bar, cross the lagoon using the bridge, take a right at the Orca Stadium, and another right at Wild Arctic Plaza.
Scheduled to perform this year are Vanilla Ice, Justin Moore, Molly Hatchet, LOCASH, Everclear, Flo Rida, several tribute artists, and more to come.
Concerts are included in the SeaWorld ticket, but you can reserve seating for any show. Prices for reserved seating range from $9.99 to $39.99.
4.    Dance Parties
Scattered all around the park are live DJs, local bands, and performers to keep you entertained during the festival.
Usually, there is a mini stage in front of the Shark Encounter and outside of Wild Arctic where the dance parties happen. For days like Mardi Gras and Cinco de Mayo which occur at the same time as the SeaWorld Seven Seas Food Festival, SeaWorld provides extra entertainment sprinkled throughout the park.
There's nothing like dancing the calories away after stuffing yourself.
5.    BONUS: The Animals!
A trip to SeaWorld wouldn't be complete if you didn't see the amazing creatures that make this park a zoological one—and a famous one at that.
Be sure to visit the incredible aquariums filled with fish, sharks, orcas, penguins, and Beluga whales. SeaWorld is also home to many birds and native Florida species such as flamingoes and manatees. They care for a lot of animals and love to show guests what goes into each animal's care.
Get up close to these majestic creatures and their caretakers on an exclusive animal experience tour.
After a Day of Sampling, Sleep it Off at Rosen Shingle Creek
Stay in one of the top luxurious hotel guestrooms in Orlando at Rosen Shingle Creek.
Located near International Drive, Rosen Shingle Creek provides the finest luxuries, amenities, and convenient access to all Orlando has to offer. We dedicate ourselves to the highest standards of cleanliness and safety for the well-being of our guests and associates.
Our total commitment includes new hotel features. For example, you'll see protective borders at the front desk staff and more hand sanitizer dispensers throughout the hotel. We use hospital-grade, EPA-approved disinfectants to frequently clean common areas, touchpoints, and all guestrooms.
Read all the details on Rosen's Total Commitment page.
We hope you enjoy a relaxing Orlando vacation with all the luxurious comforts at Rosen Shingle Creek.