Get ready to make waves on the dance floor!
SeaWorld Electric Ocean is back in Orlando for 2022. The summer spectacle features exuberant music, unique wildlife shows, and dazzling fireworks. It will take place on Fridays, Saturdays, and Sundays from May 27 through September 5, as well as on Memorial and Labor Day.
Dive into SeaWorld Electric Ocean
Electric Ocean is included with the price of SeaWorld admission. So, after a day of amazing animals and thrilling rides, stick around for an unforgettable night of fun. When the sun goes down, Bayside Stadium will transform into Club Sea Glow, an all-ages discotheque bathed in a kaleidoscope of lights. Watch a high-octane performance by a troupe of neon-clad dancers or break out your own moves as a DJ keeps the party going.
As the party winds down, look up into the vast Florida sky to watch Ignite. SeaWorld's signature fireworks and light show starts at 10 p.m. While Club Sea Glow is a prime watching spot, the show is viewable from all around the park's central lake.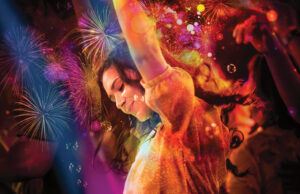 Something for Every Seafarer
SeaWorld Electric Ocean will also feature an exhilarating lineup of all-day entertainment. From charming children's programming to new takes on classic animal shows, there's something for everyone.
In previous years, offerings have included:
Elmo Rocks, a show in which beloved Sesame Street characters take to the stage as a rollicking rock band.
Rescue Tails, a showcase of SeaWorld's wildlife rehabilitation work
Electric Current, a daytime dance party to amp guests up for the night's main events
Sea Lions Tonite, an uproarious show starring SeaWorld's iconic Clyde and Seamore
Breathtaking ocean-themed art installations made of recycled plastic
Pop, a one-of-a-kind art experience featuring the beauty of bubbles
Exclusive event merch, including neon digs sure to wow everyone at Club Sea Glow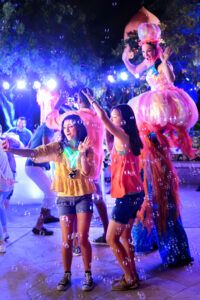 Going to Electric Ocean in August or September? You can also check out the SeaWorld Craft Beer Festival. Have a whale of a time sampling 100 thirst-quenching brews, with an emphasis on local beers.
Recharge at Rosen Shingle Creek
When the party's over, put your feet up in your elegant guestroom at Rosen Shingle Creek. From plush, pillow-top mattresses to award-winning dining, the resort has all you need to unwind after a truly electrifying trip to SeaWorld.