For more information, contact:
Janice Abrew-Coriano
407-832-6880, JAbrew@RosenHotels.com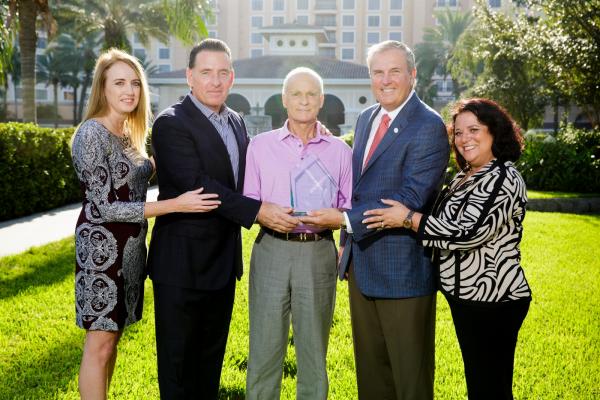 ORLANDO – (Oct. 15, 2014) – Associated Luxury Hotels International (ALHI), which serves the meetings and incentive marketplace with its Global Sales responsibilities for its membership of more than 160 Four- and Five-Diamond quality hotels and resorts worldwide, presented Rosen Shingle Creek® with its prestigious "Chairman's Award" as the "ALHI Hotel of the Year" for 2014. The award is presented annually to the ALHI member hotel or resort that best displays exemplary leadership and commitment to performance in the preceding year, while epitomizing the ALHI Global Sales Organization (GSO) and property teamwork and cohesion in serving the meetings industry. The award was presented at ALHI's prestigious Industry Advisory Council conference, which was recently held at the "new" Hotel del Coronado in Coronado (San Diego), California.
"We are very appreciative of this prestigious award, and more importantly, our relationship with ALHI," said Dan Giordano, General Manager, Rosen Shingle Creek®. "Simply put, ALHI is an extended arm of our sales team, and we work closely together to ensure meeting planners and their attendees receive exceptional service."
"Rosen Shingle Creek® in Orlando is especially deserving of this special recognition and award," said David Gabri, CEO of ALHI. "It is an outstanding convention hotel complex with an extraordinary leadership team and staff, led by their owner Harris Rosen, and executive team of Dan and Leslie. They work so well with our valued clients and our ALHI Global Sales team in serving the meetings and incentive marketplace. We are proud to recognize Rosen Shingle Creek® with this distinguished honor."
"We have an amazing partnership with ALHI and this recognition is something we are extremely proud of as it is earned by the entire team of associates at Rosen Shingle Creek® with very passionate leadership," said Leslie Menichini, Vice President, Sales, Rosen Hotels & Resort.
The AAA Four Diamond, 1,500-room Rosen Shingle Creek® is conveniently located at 9939 Universal Blvd., just off the International Drive tourist district and 10 minutes from the Orlando International Airport. Among the many honors the hotel has earned is Meetings & Conventions (M&C) magazine's Gold Platter Award, a "best of the best" award which is given only to the top catering departments at convention properties across the country. To book a room, guests may call the Rosen Shingle Creek® reservations line at (866) 996-6338. For more information, visit www.rosenshinglecreek.com or call (866) 996-9939. For more information about Rosen Hotels & Resorts, visit www.rosenhotels.com.