Chef Dunton brings experience, flare and fresh ideas to Rosen Shingle Creek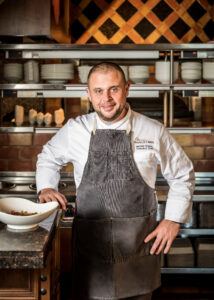 Orlando, FL, March 2022 – Rosen Hotels & Resorts is proud to announce Chef Michael Dunton as its new Executive Chef at Orlando's Rosen Shingle Creek Hotel. Dunton takes the reins from Executive Chef Jorge Oliveira, who retired in February after an illustrious 30-year career with RHR. Dunton knows he has big shoes to fill but is ready for the challenge after years serving as Resort Executive Chef at the JW Marriott Grande Lakes and at the Renaissance Orlando at SeaWorld.
When you first meet Chef Dunton, one thing is for certain. This man is passionate about food. Raised in New England, Dunton grew up fishing and clamming in Cape Cod, falling in love with fresh seafood and the creations his family made through the years. "Coming from an Armenian and Italian heritage, for both of my grandparents and great-grandparents food was always a big production we always made dishes from scratch. So being surrounded by family and their passion for cuisine, I fell in love with cooking at a really early age," Dunton said. "Food was our gift to each other too. A Christmas gift from my great-grandmother would be a bag of dumplings that we could eat throughout the year," Dunton added.
It is a culinary gift Dunton now shares at Rosen Shingle Creek, with its 15 restaurant options for the guests who stay in one of the hotel's 1,501 guestrooms and suites. Dunton now oversees the hotel's restaurant and catering options, including catering for meetings and special events where guests can range from 10 to 10,000. One restaurant under Dunton's leadership is A Land Remembered, Rosen Shingle Creek's award-winning steakhouse featuring Harris Ranch Black Angus Five Diamond Prime Beef. Here you will find mouth-watering filets that leave guests in awe, especially when paired with a cold-water half lobster tail drizzled with butter. Dunton's love for the ocean and seafood shines in A Land Remembered with a daily catch, fresh from Florida anglers, as well as Grilled Swordfish sourced from Ft. Pierce. Pair both with a nice glass of wine to really draw in the richness, the subtlety and simplicity of the flavor of the fish. "One of my strengths is knowing the area, what grows in the area and what's coming from our local waters. I love working with local markets. I brought that with me from Massachusetts where it is very easy to get great, local seafood," Dunton said.
When Dunton is not hard at work, creating delicacies at Rosen Shingle Creek, you can find him with his finest creation, his family. Whether it is on the water, in the sun or just at home, Chef Dunton puts his heart into everything he does. And it shows.
If you would like more information about Chef Michael Dunton or Rosen Shingle Creek Hotel, please contact Rob Hubler, Public Relations Manager at Rosen Hotels & Resorts, 407-996-7656 or rhubler@rosenhotels.com.