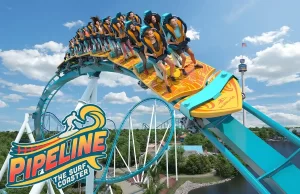 This year, you won't need to go to the beach to hang 10. SeaWorld Orlando is launching a new, exciting ride,  Pipeline: The Surf Coaster, on May 27.
If you live for the thrills, we're here to get you stoked about SeaWorld's rad new Orlando rollercoaster.
A First-of-Its-Kind Surf Coaster
Pipeline will be unlike anything roller coaster fans have ever experienced.
Designed to emulate the sensation of surfing, the coaster launches riders an incredible 110 feet up into the air while they're strapped in and standing upright. You'll zoom through the sky while feeling the entire range of motion you would riding the ocean waves.
Thrilling Heights and Gnarly Sights
In addition to climbing high enough to see all of SeaWorld Orlando and beyond, Pipeline covers 2,950 feet of track in a little under two minutes. To achieve that, the coaster goes at a striking speed of 60 miles per hour. It's a rush, to say the least.
Seven Coasters and Counting
Once Pipeline officially launches, it'll be SeaWorld Orlando's seventh coaster. Keep the thrills going by riding SeaWorld's other roller coasters: Kraken, Manta, Mako, Ice Breaker, Infinity Falls, and Journey to Atlantis.
With each ride they design, SeaWorld's engineers craft ever-exciting coaster experiences. These popular rides have helped SeaWorld become the "Coaster Capital of Orlando."
Hang Loose at Rosen Shingle Creek
With Pipeline: The Surf Coaster opening soon, you'll to want to book your Orlando hotel in advance. There's no better place to stay in Orlando than Rosen Shingle Creek.
Part of Rosen Hotels & Resorts, Rosen Shingle Creek offers clean, comfortable, and luxurious rooms. Our hotel is near International Drive and Orlando's top restaurants, bars, and attractions.