Holy moly — National Bagel Day is coming up on January 15.
The day is a time to enjoy a bagel in all its crispy on the outside, soft in the middle glory.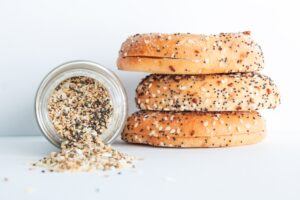 And it's the perfect chance to celebrate the food's history. The beloved bread originated in Jewish communities in Poland in the 1600s. Aside from being delicious, beygls were also practical. The ring shape made them cook more quickly and made it easier for bakeries to transport and display their goods.
The circle-shaped bread became a hit in the northeast U.S. as Jewish immigrants put down roots in New York City.
Today, nearly 8% of Florida residents were born in New York. So beautiful bagels abound in the Sunshine State, too. Whether you like yours with cream cheese, butter, or salty and smoky salmon, there's a Central Florida bagel shop for you.
Here are seven places where you can celebrate National Bagel Day in Orlando.
1.      Bagel King
Bagel King has reigned supreme in Orlando since 1977.
The bakery is owned by the same family today and has locations in the northern suburbs of Casselberry, Winter Park, and Lake Mary.
Enjoy standbys like plain, everything, and poppy seed. You'll also find new classics like cheddar jalapeño, asiago, and cinnamon. All flavors pair perfectly with their homemade cream cheese. Or go dairy-free with hummus or avocado.
Bagels aren't all you'll find on the shop's massive menu.
Fuel your Orlando adventures with breakfast fare like pancakes and omelets. If you stop by for lunch, you can instead enjoy a salad or huge deli sandwich.
2.      Brooklyn Water Bagels
Before bagels are baked to perfection, they're steamed or boiled. Since water has different minerals depending on where you are, bagels taste a little different from place to place. And sometimes you just want a taste of home.
Brooklyn Water Bagels knows the feeling.
That's why they developed their own water treatment system, which makes Florida water taste like it flowed down from the mountains of upstate New York.
The result is authentic New York-style rings packed with flavor. Enjoy yours with schmear, nova lox, or eggs and cheese. Northerners visiting Florida will find familiar flavors in meats like pastrami and Taylor ham. Brooklyn Water also serves deli sandwiches, wraps, and iced coffee.
The bakery chain has locations around the state, including in Winter Park and Lake Mary.
3.      Stuff-A-Bagel
Stuff-A-Bagel likewise pays homage to the ring-shaped bread's New York roots.
About 20 years ago, the Giambalvo family moved from Long Island to Southwest Florida and opened their first bakery. It was a hit, especially with customers from New York and New Jersey. Once the Giambalvo kids were old enough, they opened outposts of their own.
In 2022, the family opened a shop in Windermere, west of Orlando.
The shop's walls are filled with New York Mets and subway memorabilia. The northeastern theme carries over to the menu, which has sandwiches named La Guardia, the Boss, and Long Island Expressway. Or start your day with a heaping helping of flavored cream cheese.
4.      Bakery Plus
If you're an early riser, Bakery Plus is the spot for you.
You'll find this small-but-mighty bakeshop in SoDo, a neighborhood south of downtown Orlando. Bakery Plus sells all types of oven-fresh goodies, including donuts, croissants, and, of course, bagels. Take a seat at the counter or pull up to the drive-thru and enjoy sweet treats and freshly made breakfast sandwiches.
The bakery opens at 6 a.m. each day, and popular menu items can sell out quickly. So be sure to get there first thing in the morning.
Don't worry — Bakery Plus sells coffee, too!
5.      Jeff's Bagel Run
No two visits to Jeff's Bagel Run are the same.
That's thanks to this Orlando bakery's Bagel of the Day menu. Each day, the shop features a different variety. Depending on when you visit, you may be able to enjoy a French toast, egg, rainbow swirl, or sprinkle-covered delight. Jeff's everyday menu includes options like rosemary salt, cinnamon raisin, garlic, and blueberry.
In 2022, Jeff's was one of three businesses to win Best Bakery in the Orlando Sentinel Foodie Awards.
6.      Belanger Bagels
Have a très bon breakfast at Belanger Bagels in Apopka.
Unlike the other bakeries on this list, Belanger serves Montreal-style bagels. They are thinner and denser than their New York counterparts. They are also sweeter since they're traditionally boiled in honey water. Montrealers typically top their bagels with poppy or sesame seeds.
Belanger is open for pick-up on select days. Check their website for availability.
Go traditional with sesame or poppy. Or order fun flavors like everything, pumpkin spice, asiago, or cheddar jalapeño. And because Belanger boils its dough in agave rather than honey, vegan options are available.
7.      18 Monroe Street
Trying local bakehouses is a great way to see more of Orlando. But some mornings, your stomach starts rumbling the moment your alarm clock goes off. Prepare for days like those by choosing an Orlando hotel where you can enjoy perfectly baked bagels on-site.
Rosen Shingle Creek is home to 18 Monroe Street Market, a deli that serves fresh baked goods every morning.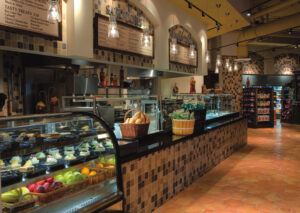 The morning menu includes tasty bagels you can enjoy with butter, peanut butter, or your favorite cream cheese flavor. 18 Monroe also has a splendid selection of sandwiches. The smoked salmon sandwich with onions and capers will rock any lox-lover's world.
Of course, Rosen Shingle Creek is more than a great place to grab breakfast.
Our location on Universal Boulevard makes it easy to get to Orlando's top attractions. We're minutes from the theme parks and Orange County Convention Center. Or stay in and enjoy our pools, nature trail, and award-winning golf course.