A few months ago, we explored the coolest native wildlife in Florida in a blog post. But manatees and gopher tortoises aren't the only animals you can encounter in Orlando. You can also pet friendly domestic animals and observe exotic critters from around the world.
If you're traveling with a pack of animal lovers, you otter check out these eight turtley awesome Orlando attractions.
Disney's Animal Kingdom
At 580 acres, Animal Kingdom is Disney's largest theme park. It's packed with rides and shows for animal lovers of all ages.
Kilimanjaro Safaris is a must-do for animal lovers. This guided bus tour takes you through gorgeous savanna, forest, and wetland habitats. You'll see animals like lions, baboons, zebras, and elephants.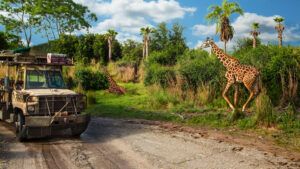 If you're up for a grand adventure, spring for the Wild Africa Trek. This 3-hour VIP tour starts at $199 per person and allows you to get a close-up view of iconic African animals. You'll even cross a daunting rope bridge over waterways teeming with Nile crocodiles.
But Animal Kingdom is more than a safari park.
Be sure to take the Wildlife Express Train to Rafiki's Planet Watch. Here, you can visit a petting zoo or learn how Disney cares for its animals with a tour of the veterinary facility. Animal Kingdom is also home to the Maharajah Jungle Trek, a self-guided walking tour through a Southeast Asian jungle. Look out for tigers, exotic birds, Komodo dragons, and water buffalo.
Discovery Cove
If cool fish are your wish, plan a day at Discovery Cove.
SeaWorld Parks & Entertainment operates this unique, all-inclusive day resort. Snorkel through a reef full of colorful fish and swim alongside otters in a freshwater reserve. After you dry off, head to the Explorer's Aviary to feed parrots and other exotic birds.
All these experiences are included with your Discovery Cove ticket.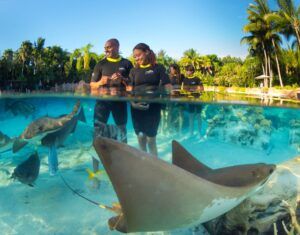 You also get unlimited breakfast, lunch, and drinks (including wine and beer for guests 21+). Discovery Cove upgrades include encounters with dolphins, flamingos, stingrays, and sharks.
Giraffe Ranch
Take your Orlando vacation to the necks level with a day at Giraffe Ranch in Dade City.
The 47-acre wildlife preserve hosts thrilling wildlife safaris. Trek through the park by foot or in your own car. Or let Giraffe Ranch take you around. You can board a four-wheel drive vehicle, Segway scooter, or even a camel. No matter how you choose to explore, you'll spot animals like rhinos, tapirs, lemurs, zebras, and of course, giraffes.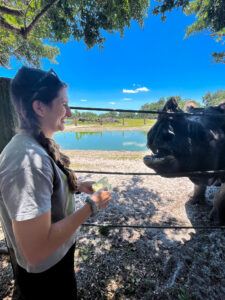 As you savor the savanna, ranch employees will tell you all about the animals and why it's important to conserve them.
Safaris start at $150 per vehicle if you drive your own car, and $119 per person for the other tours. Add-on experiences include otter feeding sessions and small-group encounters with giraffes and cheetahs.
Central Florida Zoo and Botanical Gardens
Fly, slither, or hop up to Sanford, Florida for a bear-y fun day at the Central Florida Zoo.
The zoo was founded in 1923. That year, firefighters put a monkey, dog, skunk, opossum, raccoon, and squirrel on display in downtown Sanford. By the 1970s, the zoo had much more exotic residents, a promising young zoo director named Jack Hanna, and a gorgeous 116-acre property on Lake Monroe. Today, the zoo is home to 100 species, including leopards, lemurs, macaws, and dart frogs.
General zoo admission costs $19.95. There are discounts for students, seniors, first responders, veterans, teachers, and AAA members.
Wild Florida
Oh, give me a home where the buffalo (and alligators, giraffes, sloths, and capybaras) roam.
Wild Florida has something for every animal lover. Drive your car through a 170-acre safari park. You'll see creatures from Africa (zebras and giraffes), Central Asia (mouflon sheep), and the Americas (bison).
And since Wild Florida is surrounded by ranchland, you may see some cows.
Wild Florida also runs airboat tours through the northern reaches of the Everglades. You'll explore pristine marshes and see wildlife like eagles, wetland birds, and alligators. Daytime and nighttime tours are available.
All airboat tours include admission to Wild Florida's wildlife park.
It houses exotic animals like porcupines, sloths, emus, and wallabies. You'll also meet Snowflake and Blizzard, two albino gators who can't survive in the wild. Add-on experiences include gator feeding and playtime with friendly capybaras.
Kitty Beautiful Cat Café
This downtown Orlando coffee shop is truly the cat's meow.
There are two parts to the Kitty Beautiful. One half is a classic café, where you can order food (including cat-shaped sandwiches), coffee, wine, and beer. On the other side is a playroom filled with crinkly toys, scratching posts, and feather wands.
For $12, you get an hour of kitty snuggles.
Reservations are recommended, especially on weekends. All the feline friends at the Kitty Beautiful are up for adoption. Since this Orlando cat cafe opened in 2019, they've found homes for over 300 cats.
Wildflower Farm
If you want your Orlando vacation to be the G.O.A.T., stop by Wildflower Farm. This working farm is minutes from Orlando's bustling Baldwin Park neighborhood but feels worlds away. Four days a week, Wildflower Farm offers early-morning goat yoga.
After doing your sun salutations, stick around for baby goat cuddles and bottle feeding.
On Wednesdays and Saturdays, you can take your kids to meet Wildflower Farm's kids during a fun storytime event. On Friday nights, animal lovers 18+ can attend a "Party in the Pasture."
You can also buy fresh goat milk and goat cheese at Wildflower Farm.
Rosen Shingle Creek – A Haven for Animal Lovers
Animal lovers are in good company at Rosen Shingle Creek.
Walking into our Orlando hotel, you will be greeted by our family of precious zebra finches. We've raised generations of the birds, which are native to Australia.
Our love of animals doesn't stop with our finch friends.
Take a quick walk along our nature trail and you'll see for yourself. Shingle Creek, the headwaters of the Everglades, runs through our property, attracting all kinds of wetland critters.
We're also a pet friendly hotel.
Our furry guests enjoy special treats and dog walk areas close to their guestrooms. Learn more about our pet-friendly rooms and review our pet policy here.