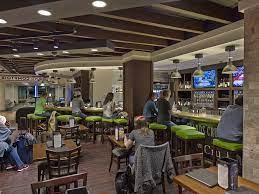 Orlando International Airport, also known as MCO, is one of the busiest airports in the country. When its new Terminal C opens in September 2022, several exciting restaurants will open with it.
MCO's New Terminal C Restaurants
Provisions by Cask & Larder
This grab-and-go option will be perfect for a busy traveler looking to recharge. James and Julie Petrakis' fourth restaurant will serve gourmet prepackaged and made-to-order items. Guests with time to spare can also sit at the adjoining pub for Southern food and cocktails.
Orlando Brewing & Bar Bites
Orlando's oldest brewery is bringing its signature beers to Terminal C. Guests will be able to sip local favorites such as the I-4 IPA and O-Town Brown Ale while dining on small plates.
Some of the best wines in the world are coming to MCO thanks to sommelier George Miliotes. Terminal C is getting an outpost of his renowned Wine Bar. Like Wine Bar George's Disney Springs spot, the airport location will pair luxury wines with small plates and charcuterie.
Orlando's original artisan bakery is headed to Terminal C to greet travelers with fresh-baked bread and pastries. Olde Hearth Bread Co. will also serve sandwiches, snacks, and coffee to help refuel MCO guests.
Sunshine Diner by Chef Art Smith
Florida chef Art Smith is ready to welcome you to Florida before you've even left the airport. His sixth restaurant, Sunshine Diner, will serve comforting Southern dishes and classic diner food 24 hours a day. If you're craving biscuits and gravy or a slice of pie, Sunshine Diner will have the perfect meal to for you.
Book Your Orlando Stay at Rosen Shingle Creek
Whether you're flying into Orlando for work or business, book a room at Rosen Shingle Creek.
Keep your culinary tour of Orlando going with our seven full-service restaurants and other great dining options. Our hotel provides affordable luxury, comfort, and convenient access to Orlando's top restaurants, bars, and attractions.