Every small business in Orlando adds to the uniqueness of this city. From the creative options of hot food spots to niche shops and boutiques, we celebrate small businesses.
After shrugging off a Thanksgiving turkey coma and finding the best deals during Black Friday, join us on November 25 in supporting our local businesses for Small Business Saturday.  Here are just a few places around town where you can make the best impact on Orlando's small businesses.
Saturday Farmers Markets

East Orlando
When you're on the hunt for local goodies, farmers markets are among the best places to go. If you're shopping around on Small Business Saturday, then make the Winter Park Farmers Market one of your stops.
Every Saturday from 8 a.m. to 1 p.m., Winter Park holds its local farmers market in Central Park West Meadow. It's great for buying locally grown produce and plants, as well as delicious baked goods and organic foods and drinks.
The vendors may vary on a weekly basis, but some businesses you can expect to find at the Winter Park Farmers Market include Ginny's Orchids, Orlando City Pasta, Pawsitively Pure Dog Food, Worthy Cakes, and more.
West Orlando
Winter Garden's farmers market also happens on Saturdays from 8 a.m. to 1 p.m.
The Winter Garden Farmers Market similarly hosts local businesses that sell produce, plants, food, and artwork.
Orlando Food Trucks
Food trucks are not only a great way to dine when you're on the go, but they are also how a lot of restaurants get their big start.
South Orlando
The Orlando area is filled with dozens of food trucks, and Kissimmee is home to Central Florida's first permanent food truck park: World Food Trucks. This park is open for business every day and currently has 60 food trucks on its grounds.
Many of the food trucks at this park serve Latin American cuisine such as Mexican, Dominican, Puerto Rican, Cuban, and Caribbean foods.
Also located in Kissimmee is Food Trucks Heaven, a food truck park located next to Main Gate Flea Market. There are currently 48 food trucks at the park, and each of them range from serving sweet treats and Latin American delights to Asian, French, Italian, and American delicacies.
North, West, and East Orlando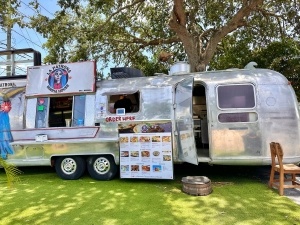 Other food trucks you can find around Orlando not in a park include: La Patrona Tacos & Birria House on Howell Branch Road in Winter Park; Sugar Rush Marshmallows on Plant Street in Winter Garden; Just Extremely Tasty on Moss Park Road in Orlando; The Pass Kitchen on Sunshine Lane in Altamonte Springs; and so much more.
A great way to discover new food trucks and explore different parts of the city is by attending Orlando Parking Lot Parties, which hosts new food trucks around town every weekend.
Local Gift Shops
People who travel to Orlando on vacation rarely go back home without a keepsake. You could shop at any of the copy-paste gift shops around town with the standard Mickey Mouse trinkets, or you could shop local at one of Orlando's many small businesses. 
Downtown Orlando
Take a stroll down Ivanhoe Village outside Downtown Orlando, and you'll find a variety of small gift shops lining Orange Avenue. Peek into shops like Maffrey's, Miscellaneous Market, and YAY! Tiny Shop, and discover a world of uniquely themed items that range from kitchenware and household items to artwork, jewelry and accessories, and more.
Another local gift shop with one-of-a-kind goodies for people of all ages is Good Crowd in College Park. From babies to grandparents, you'll find toys, puzzles, household items, accessories, and more for everyone at this small shop.
East Orlando
Venture to Winter Park and shop at the pinkest store in town: Gasp Happy Store. This shop is the place to go when you're shopping for teens and young adults as it's filled with cutely themed items based on current trends or celebrities.
Small Cafés
Dining at local food trucks is sure to fill you up, but if you're in the mood for light bites and coffee, then you'll definitely want to pay some of Orlando's cafés a visit during your Small Business Saturday ventures.
Downtown Orlando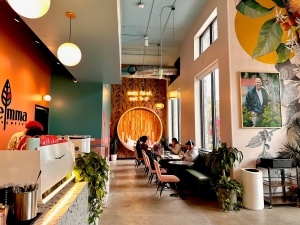 Nestled in Orlando's high rises are café favorites such Craft & Common and Stemma Craft Coffee. Both shops serve craft coffees, teas, sandwiches, and more.
The Kitty Beautiful is a cat café that serves coffee, sandwiches, and cat-themed bakery items while guests hang out with furry friends in the cat lounge.
East Orlando
In Baldwin Park, you'll find the Friends-themed coffee shop, Baldwin Perk. This place serves delectable desserts, Friends-themed breakfast goods, and an abundance of coffee to sip from while seated on sitcom-themed décor.
Shop Local & Stay Local at Rosen Shingle Creek
After a day spent supporting local small businesses around town, come back and stay at one of Orlando's own local hotels, Rosen Shingle Creek. Make your vacation feel complete with our clean, comfortable, and undeniably luxurious rooms and amenities. Our hotel is also conveniently located near prime entertainment spots such as International Drive and close to theme parks, restaurants, and shopping centers.