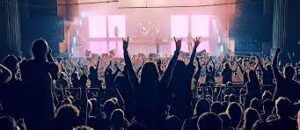 Hard Rock Live Orlando is the best place to experience live entertainment this March. Whether you're looking for outrageous belly laughs or dynamic pop music, there's a show for you.
Hard Rock Live Orlando's March 2023 Lineup
Epik High: All Time High Tour 2023
Epik High is a hip-hop trio known for the songs "Rain Song," "Can You Hear My Heart," and "Happen Ending." The influential K-pop stars are promoting their latest album, Epik High Is Here (Part 2).
Catch Epik High live at Hard Rock Live Orlando on Wednesday, March 8, 2023, at 8 p.m.
Iliza Shlesinger: The Florida Only Tour
Stand-up comedian, actor, and author Iliza Shlesinger is the youngest woman ever to win NBC's Last Comic Standing.
Known for her sharp wit and brash humor, Shlesinger is a regular fixture on Comedy Central. She also has a series of comedy specials on Netflix. Her film and television credits include Spenser Confidential, Good on Paper, and Pieces of a Woman.
On Friday, March 17, 2023, Shlesinger will perform two shows at Hard Rock Live Orlando at 7 p.m. and 9:30 p.m.
Chelcie Lynn (For Mature Audiences Only)
Comedian and internet personality Chelcie Lynn is best known for viral videos featuring her alter ego, Trailer Trash Tammy. In 2021, Lynn was named one of Variety's Top 10 Comics To Watch.
For a wild evening you won't forget, catch Chelcie Lynn's comedy show on Thursday, March 23, 2023, at 8 p.m.
2023 International Anime Music Festival
The International Anime Music Festival (IAMF) features live performances from virtual Japanese popstars. The fan-favorite performers include Kizuna AI Original Singeroid (#kzn), HimeHina, MaRiNaSu, and pop twins LiLYPSE. IAMF will also mark the North American debut of GUMI.
Enjoy the beautiful sights and sounds of anime on Saturday, March 25, 2023, at 8 p.m.
Enjoy a Relaxing Stay After a Fun Night Out in Orlando
Stay near the action by booking your room at Rosen Shingle Creek near International Drive. Our affordable, but luxurious, hotel provides convenient access to all Orlando has to offer.