Halloween Horror Nights has haunted parkgoers at Universal Orlando Resort for over three decades.
The award-winning event will return to Universal Studios Florida for select nights between September 2 and October 31, 2022. The separately ticketed event — prices starting at $74 — is recommended for gutsy guests 13 and older.
Feeling fearless? Here's what you'll find lurking in the darkness at Halloween Horror Nights in 2022.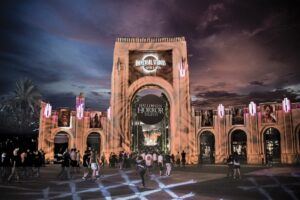 Hair-raising Haunted Houses at Halloween Horror Nights
HHN is famous (or, rather, infamous) for its themed haunted houses. Once you enter one, your only way out is through a macabre, monster-filled maze. You never know when a scareactor will jump out and give you the fright of your life. Many of the houses draw inspiration from popular horror franchises, while others are Universal's own creepy creations.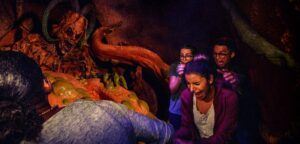 In 2022, there will be 10 haunted houses at Halloween Horror Nights.  Universal Orlando has announced the following thrilling themes:
The Horrors of Blumhouse, a daunting double feature that dares you to enter the worlds of the horror films Freaky and The Black Phone.
Halloween, in which you'll relive the monstrous moment when Michael Myers first picked up his mask and knife.
Universal Monsters: Legends Collide, which puts you in the middle of a brutal brawl between The Wolf Man, Dracula, and The Mummy.
The Weeknd's "After Hours Nightmare," which is named after his 2020 album After Hours.
Spirits of the Coven, a 1920s speakeasy run by beautiful but dastardly witches
Bugs: Eaten Alive, a sleek midcentury house with a petrifying pest problem
Fiesta De Chupacabras, an HHN house set in a Latin American village whose resident chupacabra eats visitors instead of livestock
Hellblock Horror, which finds guests breaking out of prison to avoid the wrath of their monstrous cellmates
Dead Man's Pier: Winter's Wake, where you'll face the terrors of the deep in a New England fishing village.
Descendants of Destruction, where you must escape a mutant-infested subway or ride the rails to ruin
Lines for the haunted houses can be scarily long. If you're dead-set on doing all 10 houses in a night, consider buying a Halloween Horror Nights Express Pass. This upgrade fast-tracks you to the front of each house's line.
Scream-inducing Scare Zones
Think you're safe outside of the haunted houses? Think again.
In 2022, Halloween Horror Nights will feature five scare zones. When passing through these outdoor areas, watch your back. Ghastly creatures are everywhere, waiting for unwitting park guests to cross their paths. Last year's scare zones featured HHN's iconic Terra Queen and creepy characters from Crypt TV.
This year, you'll encounter sugar-crazed kids, wicked witches, and the Pumpkin Lord's pals.
Eerie Entertainment and Eats
When exploring Halloween Horror Nights, it's easy to feel like you're the star of your own horror movie.
Take a moment to breathe at one of HHN's two live shows. This year's shows are titled Halloween Nightmare Fuel Wildfire and Goulish! A Halloween Tale. Expect otherworldly stunts, incredible laser displays, and epic music.
A selection of Universal Studios rides will stay open during Halloween Horror Nights.
Trade your chills for thrills while you board rides like Hollywood Rip Ride Rockit, Harry Potter and the Escape from Gringotts, and Revenge of the Mummy. Lines for these attractions tend to be shorter during Halloween Horror Nights. But if you spring for a Halloween Horror Nights Express Pass, it will get you right on these rides, too.
You're likely to work up an appetite while running through the fog.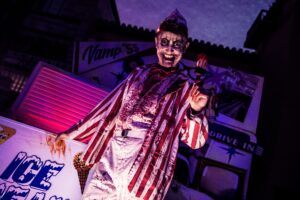 Luckily, there will be plenty of devilishly delicious food at Halloween Horror Nights 2022. You can get everything from colorful candy apples to fan-favorite Twisted Taters. You can also quench your thirst with creative cocktails, craft beer, and ice-cold soft drinks.
Retreat to Rosen Shingle Creek
When you're ready to escape the big frights and freaky sights, head to Rosen Shingle Creek.
Our stunning Orlando hotel is 10 minutes from all the Halloween Horror Nights action. Unwind in a gorgeous guestroom with spectacular views of a lush Floridian landscape. As our guest, you'll also enjoy our four heated pools, tennis courts, nature trail, and discounted rates at our on-site golf course.