Since 2000, locals and visitors have flocked to the Great Florida Birding Trail to see their feathered friends.
January 5, National Bird Day, is the perfect time to break out your binoculars and hit the trail. There are great places to see birds throughout Orlando and the rest of Central Florida. Whether you're a casual birdwatcher or avid birder (yes, there's a difference!), the area has an avian adventure for you.
Here are six questions you may have about the Great Florida Birding Trail.
1.      What is the Great Florida Birding Trail?
Despite the name, the Great Florida Birding Trail is not a continuous path.
Rather, it is a network of prime birding and birdwatching spots in the state, from the hills of Tallahassee to the far-flung Florida Keys.
Taking inspiration from a similar program in coastal Texas, the Florida Fish and Wildlife Conservation Commission (FWC) opened the first wing of the trail in 2000. Through the years, the trail continued to expand. Today, it spans over 2,000 miles and includes over 500 bird habitats.
The trail has something for everyone.
Most of the stops along it are accessible by car. To get to other spots, you'll need to hike or paddle. No matter how your adventure begins, it will end with amazing views of your favorite fowl.
2.      Are there a lot of different birds in Florida?
Yes! In fact, Florida has the third-most diverse avian population in the U.S.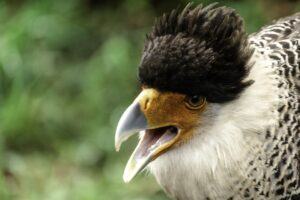 Citizen scientists who use the eBird app have reported over 500 species in the state. That's because there are so many different types of habitats here. We have everything from scrubby pine forests to swamps to coastal dunes. Here in Central Florida, we can grow both tropical and temperate plants, so there's food for a variety of birds.
And because we're part of the Atlantic Flyway, many migratory species stop by in the cooler months.
While watching wildlife in Central Florida, be on the lookout for swallow-tailed kites. You'll recognize the species from the Great Florida Birding Trail's logo.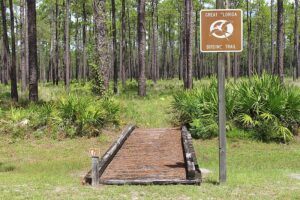 3.      The trail sounds amazing. Where can I go birding in the Orlando area?
Orlando and most of Central Florida are part of the east section of the Great Florida Birding Trail.
Many of the east section's stops are within 90 minutes of Orlando, including:
Lake Louisa State Park in Clermont, whose grasslands are great for spotting meadowlarks, wild turkeys, and bobwhite quail
Audubon Center for Birds of Prey, a raptor rescue center in Maitland where you can see eagles, falcons, and hawks
Tibet-Butler Preserve, a lakeside park near the theme parks where you can see aquatic birds like storks, ibises, and anhingas
Hal Scott Regional Preserve, a vast East Orlando wetland park with sandhill cranes, hawks, buntings, and crested caracaras
Disney Wilderness Preserve in Kissimmee, a pristine park established by Disney and the Nature Conservancy, which houses rails, red-tailed hawks, and eagles
Lake Jesup Conservation Area, between Sanford and Oviedo, where you can see species like meadowlarks, ospreys, and barred owls
Merritt Island National Wildlife Refuge, one of the trail's most popular sites, where you may see roseate spoonbills, egrets, and avocets
Smyrna Dunes Park on the Atlantic Coast, where you can see sandpipers, warblers, and plovers from the safety of a boardwalk
4.      I'm new to birdwatching. How do I get started?
The FWC has published some great resources to help you begin your birding or birdwatching journey. Their Birding 101 page recommends picking up a spotting scope and a good pair of binoculars. You'll also find printable and app-based bird species checklists on this website.
While birding helps raise awareness of many environmental issues, the activity can harm avian habitats.
Before hitting the trail, review these safety tips that will keep you and your feathered friends safe.
5.      What else is there to do along the trail?
The pristine parks and preserves along the Great Florida Birding Trail aren't just great for birds. They provide habitat to many other species, from butterflies to gopher tortoises. So the trail offers opportunities to see and learn about all kinds of native Florida wildlife.
Depending on what part of the trail you visit, you can enjoy many of your favorite outdoor activities. Go surfing or fishing in Canaveral National Seashore. Enjoy snorkeling and kayaking at Wekiwa Springs State Park. Or have fun on dry land by hiking through Orlando's Split Oak Forest.
6.      I'd love to go birding, but I don't have time to hit the trail. Is there anywhere else in Orlando I can see birds?
If you stay at Rosen Shingle Creek, you can go birding or birdwatching without leaving your hotel.
Our Orlando hotel is located along Shingle Creek, the headwaters of the Everglades. While exploring our on-site nature trail or enjoying our fishing dock, you can see species like sandhill cranes and ibises. And you just might spot a perfectly pink roseate spoonbill.