It's time to stock your tackle box. National Fishing & Boating Week is almost here.
Every angler's favorite holiday occurs during the first full week of June. In 2023, that's June 3 – 11.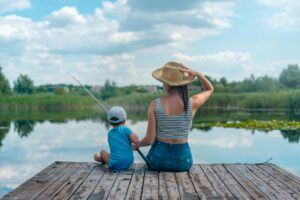 Orlando boasts over 60,000 acres of fresh water within city limits. You'll also find gorgeous lakes, streams, and springs in the suburbs. Plus, Orlando is about an hour from the Atlantic Ocean and 2 hours from the Gulf of Mexico. As a result, you're sure to find a Central Florida fishing spot that floats your boat.
Here are 10 perfect places to cast a line during your Orlando vacation, plus other helpful tips.
First, a Word on Florida Fishing Licenses
Breaking Florida's fishing regulations could leave you reeling from heavy fines. Before hitting the water, familiarize yourself with state rules and check if you need a license. Out-of-state licenses are not valid in the Sunshine State. But visitors can get short-term licenses that start at $17 for three days.
The Florida Fish and Wildlife Conservation Commission (FWC) determines when licenses are and aren't needed.
Browsing the FWC website, you'll see that licenses are not required during free fishing days.
These days take place a few times a year, including during the beginning and end of Fishing & Boating Week. On June 3 – 4, 2023, you can go saltwater fishing without a license. June 10 – 11 are free freshwater days. All other regulations still apply.
Where to Get Fishing Gear in Orlando
Perhaps you have a fishing rod that you're attached to. Go ahead and bring it to Orlando: the TSA allows passengers to bring poles and most fishing gear onto planes. Just make sure sharp items like spear guns and fillet knives go in your checked bag.
Those that still need gear have a few options.
Many chartered boats and some municipal piers rent out equipment. There are also services like Rent This Rod, which will ship gear to anywhere in the U.S. You can keep your rental for up to 2 weeks. Lastly, you could pick up what you need at Bass Pro Shops or Orlando Outfitters and then bring it home.
Best Fishing in Orlando
Now that you know where to get your gear and understand Florida's regulations, it's time to decide where to fish in Orlando. In no particular order, we recommend:
1.     Lake Tohopekaliga
The city of Kissimmee sits on the shore of Lake Tohopekaliga, also known as Lake Toho. The 22,700-acre lake is lush with aquatic vegetation, making it a great habitat for bass. While fishing in Lake Toho, you may also catch species like bluegill, redear sunfish, and crappies.
Kissimmee Lakefront Park and Brinson Park both have fishing piers on Lake Toho, as well as picnic pavilions with grills if you're up for a fish feast.
2.     Conway Chain of Lakes
In southeast Orlando, a short drive from the airport, you'll find the scenic Conway Chain of Lakes.
The chain is comprised of four lakes, their shores lined with stunning palmettos and stately oak trees. The lakes are so beautiful that lucky locals have built their homes all around them. Since the Conway Chain of Lakes is surrounded by private properties, your best bet is to charter a boat for the day. Then, get ready to reel in largemouth bass, shad, bream, and catfish.
End your day with a visit to Fish on Fire, the only Orlando restaurant that will cook your catch.
3.     Bill Frederick Park
With its peaceful lakeshore and gorgeous trails, it's hard to believe that Bill Frederick Park is minutes away from the bustle of Universal Orlando Resort.
During Fishing & Boating Week, trade your wizard wand for a fishing pole and see for yourself. In addition to a pier over Turkey Lake, the park offers early-morning boat rentals from Thursday – Sunday. It costs $31.95 for a 4-hour rental.
You'll need to have the boat back by 11 a.m. But you can keep your adventure going by enjoying the park's picnic pavilions, playgrounds, volleyball court, and swimming pool.
Admission to Bill Frederick Park costs $5 per car.
4.     Little Big Econ State Forest
For some of the best river fishing around, head to Little Big Econ State Forest, northeast of Orlando.
The state forest spans 10,000 acres along the Econlockhatchee River. This blackwater river is home to species like bluegill, sunfish, and catfish. When you need a break from fishing, take a walk down one of the on-site walking trails, and look out for native Florida wildlife like alligators, gopher tortoises, and roseate spoonbills.
5.     Starke Lake
According to Bass Online, Starke Lake in the northwestern suburb of Ocoee is one of Orlando's most angler-friendly lakes.
Venturing around the adjacent Lakefront Park, it's easy to see why. Starke Lake's banks have been decked out in fish-friendly landscaping, including brush piles that attract droves of fish. The park also sports an ADA-compliant pier with feeders that dispense fish food twice a day. Thanks to these features, bass are abundant.
The park also features picnic pavilions and a paved walking path.
6.     Walt Disney World
When you think "boat ride" and "Disney," you probably think of "it's a small world" or Jungle Cruise. But did you know that the theme park also offers private fishing excursions? An expert angler will take you and up to four other guests on a catch-and-release bass fishing adventure. Pricing varies based on your group's size and the boat you select.
Best of all, all fishing gear is provided.
Reservations can be made up to 60 days in advance by calling (407) 939-FISH.
7.     Space Coast
Now, we'll look at a couple of saltwater fishing options within 2 hours of Orlando.
The closest beaches to Orlando are along the Space Coast, about a 50-minute drive. It is along this shoreline that Fineline Fishing Charters operates its saltwater fishing tours. Fineline's experienced captains offer everything from offshore reef angling to casual lagoon tours.
Depending on which trip you choose, you might find speckled trout, cobia, tarpon, or snappers — and maybe even some sharks.
Fineline's tours include all the gear you need. When the excursion's over, the captain will even clean your fish for you, free of charge. The Space Coast features many cook-your-catch restaurants, including Rusty's Seafood and Oyster Bar.
8.     New Smyrna Beach
North of the Space Coast lies the town of New Smyrna Beach. The Atlantic coast beach town is known for its big shark population, which attracts shark researchers from all over. Thanks to the courageous captains at NSB Shark Hunters, you can lend these scientists a hand.
NSB Shark Hunters specializes in catch, tag, and release shark fishing excursions. The tags help scientists track local populations of species like bull, hammerhead, and tiger sharks.
The tour company offers shoreside and offshore experiences. In addition to obtaining a license, those staying shoreside must complete an FWC course about shark fishing.
No matter what excursion you choose, all equipment is provided.
9.     Clearwater
Florida's Gulf Coast beaches are a little further than those on the Atlantic. But the sparkling blue water, soft white sand, and excellent saltwater fishing make the trip worth it.
The Bait House operates a tack shop and restaurant on Clearwater Bay. You can rent gear from them and head to the pier or charter a boat trip. When you're done, return to the Bait House and have your catch cooked.
The Gulf Coast is incredibly biodiverse and is home to snook, tarpon, mackerel, hogfish, massive goliath grouper, and other marine life.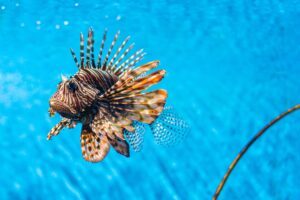 Unfortunately, invasive lionfish pose a huge threat to these native species. Certified scuba divers visiting Florida can do their part by booking a spearfishing lesson with 2 Shea Charters. The day starts with a speargun lesson, at which point your instructor will join you on your dive. In addition to lionfish, you might catch species like gag grouper and hogfish.
Lionfish have venomous fins and need to be handled with care. Don't worry — your instructor will be there to help you clean any that you catch.
10.  Rosen Shingle Creek
As this post shows, there are plenty of fantastic fishing spots within driving distance of Orlando.
But if you choose the right Orlando hotel, you can cast your line without getting behind the wheel.
With its tropical landscaping and nature trails, Rosen Shingle Creek is a natural choice for anyone who loves outdoor recreation. Since we have an on-site fishing dock, anglers who stay with us are in for a special treat. Reservations are required for our seasonal fishing offerings.
And when the time comes to venture out, our location off the Beachline Expressway makes it easy to get to other top Orlando fishing spots.