Holidays are the one time of the year when nothing is more important than spending quality time with the people you love. The last thing you need on your plate is the stress of cooking for family and friends.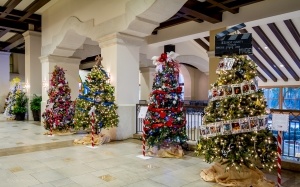 Let our renowned chefs at Rosen Shingle Creek whisk you away into an exquisite winter wonderland of flavors at our selection of Christmas Day and New Year's Eve celebrations.
Christmas Brunch Buffet at Café Osceola
Alluring Appetizers
Awaken your inner Christmas spirit with our attractive selection of appetizers. Warm up your winter with divine soups like New England clam chowder and tomato basil bisque with grilled cheese croutons. Enjoy small bites and greens from our selection of amuse-bouches, market salads, and market displays.
Guests may also craft and customize their own salads at our make-your-own salad bar.
Small Plates
Equally as enticing as our appetizers are our small plates, which offer hearty ingredients in smaller portions that please the palate in anticipation of our extravagant entrées. We bring a variety of options to the table with our seafood station, dim sum, paella Valencia, Banrai Sushi, street tacos, and make-your-own pasta station complete with Calla Bella's focaccia bread.
Snack on a delectable helping of paella Valencia filled with shrimp, mussels, clams, andouille sausage, herb-marinated chicken, and saffron rice.
Our savory street tacos are made with flour tortillas and can be filled with brisket burnt ends, adobo chicken, or lamb birria. Top them off with pico de gallo, salsa roja, salsa verde, guacamole, queso fresco, cotija, and limes.
Satiating Entrées & Carvings
After indulging in our vast selection of palate pleasers, fill up on our generous entrées and carvings. Enjoy hearty helpings of beef bourguignon, herb-marinated chicken with semolina gnocchi, or Pompano Beach swordfish to please your palate this holiday season.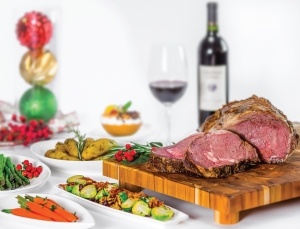 Complement these divine dishes with a side of mashed potatoes, sourdough and sage dressing, creamed greens, crispy onions, roasted mushrooms, sweet corn pudding, or roasted winter vegetables.
Our carving station serves you hardwood smoked prime rib with au jus and horseradish cream, as well as Joyce Farms free range turkey with giblet gravy and cranberry sauce.
Best of Breakfast
Make the morning right with sweet and savory selection of breakfast favorites. Enjoy tasty made-to-order omelets, waffles, and buttermilk pancakes served with maple syrup and a side of cherry-smoked bacon or sausage. Choose from a variety of fluffy baked breakfast goods.
We're also serving an assortment of bagels including plain, everything, cinnamon raisin, and wheat.
Decadent Desserts
End your Christmas feast with some of the finest desserts Café Osceola has to offer. Taste the rich flavors of our red velvet and dark chocolate fudge Bundt cakes, or try unique tastes of black forest torte and pineapple upside down cake. Enjoy our abundance of mini pastries and assortment of desserts, each about as unique as snowflakes.
Dip sweet treats like pineapple, strawberries, Rice Krispies treats, coconut macaroons, Oreos, wafers, and marshmallows into our fancifully flowing chocolate fountain to top off this lush dining experience.
Christmas Buffet Pricing
Spend the day dining to your heart's content at $89.95 per adult. Children ages 4 to 11 dine for $37.95, and kids 3 and younger eat for free. Guests over 21 can enjoy unlimited champagne and mimosas as well. Join us Christmas Day at Café Osceola from 11 a.m. to 6 p.m. and make this holiday a memorable one.
Christmas Dinner at A Land Remembered
After a morning spent unwrapping presents and treasuring the people you love, come spend the evening feasting on the finest tastes A Land Remembered has to offer. Indulge in our elegant three-course prix fixe menu and see how we turn holiday flavors into exquisite dishes.
First Course
Let the warmth of a hearty New England clam chowder with house bacon fascinate your taste buds, or savor the flavors of our citrus salad made with local greens, orange, grapefruit, pomegranate, toasted walnut, and citrus vinaigrette.
Second Course
Enjoy a full plate of half duck with duck breast, duck leg, local corn puree, wild mushroom, and hibiscus jam, or take on a 16 oz. New York strip steak with pommes aligot, local vegetables, bone marrow butter, and bordelaise sauce.
Third Course
Finish this fine dining experience with a rich, warm gingerbread pudding as the flavors of pumpkin ice cream and buttered toffee sauce melt in your mouth.
Dinner takes place Christmas Day from 5:30 p.m. to 10 p.m. at $79.95 per adult and $34.95 for children ages 4 to 11. Kids 3 and younger dine for free. Guests can enjoy complimentary self and valet parking upon arrival.
New Year's Eve Buffet at Café Osceola
Tempting Starters
Welcome the New Year with the fanciest flavors you can find at Rosen Shingle Creek. Join us at Café Osceola on New Year's Eve and kick off this celebration with some of our satisfying appetizers. Sip on Lake Meadows chicken noodle soup, or try a heart lobster bisque with sherry wine and crème fraiche. We also offer a bevy of market salads to dine on and market displays to snack from.
Our market displays will offer plenty of international and domestic cheeses, as well as an antipasto and bruschetta bar, to tease your taste buds before diving into our main courses.
Small Plates
When you aren't quite ready for generous entrée portions but want something capable of holding off the hunger until then, our small plates have you covered. Delicacies like paella Valencia and plates of pasta are more filling than finger foods but won't distract from the main courses. Dine on finds from our chef-attended make-your-own pasta station, Banrai Sushi, and our seafood station.
Filling Entrées & Carvings
Find entrées galore and feast on some of the finest carvings Café Osceola has to offer this New Year's Eve. From heavenly Lake Meadows chicken and dumplings to red wine beef short ribs with garden herb gremolata, our holiday dishes aim to make your mouth water.
Pair these delicious entrées with delectable sides like shrimp and grits, grilled asparagus and roasted plum tomatoes with citrus vinaigrette, oven-roasted cauliflower and Brussels sprouts with pancetta and parmesan, cheddar mashed potatoes, mushroom and truffle risotto, and a selection of breads and rolls.
Enjoy roasted New York striploin with bordelaise and top it off with Dijon mustard or horseradish cream when dining from our carving station.
Mouthwatering Desserts
Wrap up this celebratory journey to flavor town by getting a taste of our many dessert selections. Whether you're a cake lover or you fancy a sugary tart, there are bountiful sweets to choose from at our buffet.
New Year's Eve Buffet Pricing
Feast upon meals fit for a king this New Year's Eve at $75.95 per adult. Children ages 4 to 11 eat for $29.95, and kids 3 and under dine for free. Guests over 21 are welcomed to unlimited champagne to make the celebration even more memorable.
New Year's Eve Dinner at A Land Remembered
Just as the name suggests, you'll remember how spectacular your New Year's Eve dinner was when you dine at A Land Remembered. Our luxurious prix fixe four-course menu brings you rare, exceptional tastes that are sure to evoke excitement and leave you feeling merry and satisfied.
First Course
Embark on your fulfilling dining journey by dining on your choice of scallop carpaccio with osetra caviar, fennel and radish salad, and corn vinaigrette, or house-cured braised pork belly with smoked eggplant puree, sweet yams, and hazelnuts.
Second Course
Amuse your palate with either an enticing stracciatella salad made with roasted beet, local greens, toasted walnuts, and balsamic, or a warm lobster bisque with butter poached lobster, dry sherry, and crème fraiche.
Third Course
Choose from three of our refined entrées and introduce your appetite to one-of-a-kind flavors from our renowned chefs. Try the porchetta with local vegetables, yam puree, and tarragon pork jus, our local catch with pea puree, grilled endive, and beurre blanc, or the deconstructed prime rib with potato puree, seared eye of beef rib, foie gras and beef rib sausage-stuffed spinalis, and bone marrow bordelaise.
Fourth Course
Top off this enchanting dining experience with our delectable sticky toffee pudding made with butterscotch sauce and fig ice cream.
Come dine on New Year's Eve from 5:30 p.m. to 10 p.m. at $99.95 per adult and enjoy complimentary self and valet parking upon arrival.
Merry Christmas & Happy New Year from Rosen Shingle Creek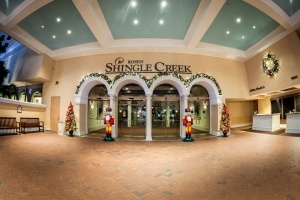 From season's greetings to celebratory dinners, Rosen Shingle Creek continues to bring you the happiest of holidays. You can dine and live like royalty when you choose to stay at our hotel. We offer high-class amenities with top-of-the-line comfort at competitive rates. Our convenient location on Universal Boulevard also puts you at the forefront of Orlando's prime entertainment, so you can make the most of your holiday vacation within minutes of your hotel.