When you're planning a wedding, there's a lot to consider. One of the first things to decide upon is your wedding venue.
After all, you need an aisle to walk down, a dining room to feed your guests, and a dance floor so that you and your new spouse can share a romantic moment to your song. Knowing where you're spending your big day will help you pick décor and may determine the food you serve.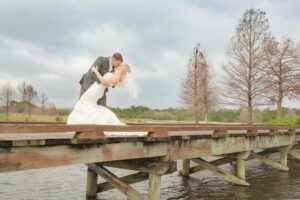 And since your venue will be one of your biggest wedding costs, choosing it early on will help you determine your budget for everything else.
February is National Wedding Month, and it leads to National Wedding Planning Day on March 1. This makes late winter the perfect time to start designing your dream day, beginning with the all-important question of location.
To make your research go smoothly, make a list of questions before you begin touring spaces.
Here are eight questions you may want to ask about the venues you see.
1.      What is the venue's capacity?
Your wedding is one of the biggest days of your life. You'll want to give your loved ones the honor of sharing that moment with you.
Before starting to tour venues, draft your guest list. Decide if your wedding will be kid-friendly and who will get a plus-one. Once you've estimated your headcount, use it to identify venues that can accommodate your family and friends.
In addition to maximum capacities, many wedding venues have guest minimums. If you're planning an intimate wedding, confirm any minimums, and if you're able to offset a small guest count by spending more on things like décor or an upgraded alcohol package.
2.      How much is the base site fee? What is included in it?
Besides the guest list, the budget is one of the first things you should think about when planning a wedding (and they often go hand-in-hand).
While many details of your wedding, like the menu and entertainment, can be adjusted according to budget, venues often charge a non-negotiable site fee. When researching or touring a wedding venue, establish how much this fee is and what it covers.
If it covers enough aspects of your wedding, a high site fee may save you money — and time —compared to securing a slew of á la carte services.
3.      Is the venue accessible to me, my partner, and my guests?
After putting time and thought into your guest list, ensure that as many invitees as possible can make it to your special day.
Depending on your guests and their needs, accessibility can mean different things. You may find yourself asking the following questions:
Can guests with physical disabilities get around the venue? Keep in mind that historic venues are sometimes exempt from ADA requirements.
If the venue has on-site caterers, can they accommodate allergies and dietary restrictions?
Is there space for children's activities?
Can the venue accommodate a sensory-friendly A/V set-up or provide a quiet room?
If you're planning a destination wedding or will invite out-of-town guests, accessibility can also mean ensuring your guests can easily get to your wedding venue.
Depending on how most guests will travel to your wedding, consider how close your prospective venue is to the nearest airport, train station, or interstate. Also think about where guests stay after the reception.
When you hold your reception at a hotel, you can often secure a discounted room rate for family and friends.
Your guests will love the convenience of a hotel wedding venue — they won't need to worry about getting home after a long day of celebrating.
4.      What dates are available?
Wedding venues often book up months — or years — in advance.
You and your spouse-to-be may want to get married on a specific, meaningful date. If not, it's best to choose a time of year you'd like to get married while staying flexible on the exact day. Either way, find out how far out any venues of interest are booking weddings.
Then, decide if their availability works with your timeframe.
5.      What are the venue's wedding vendor policies?
It's common for wedding venues to have preferred vendor lists.
These lists can save you valuable time when finding and hiring professionals like officiants, DJs, and photographers. When you get this list, research the companies listed to see if there are vendors who can carry out your wedding vision.
This step is especially important if cultural traditions will come into play when planning your ceremony, menu, or music.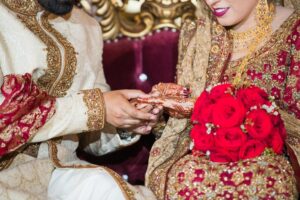 If you want to hire a wedding professional who's not on the list, be sure you understand the venue's policy on outside vendors. Keep in mind that they may be more flexible on some vendor types than others. Or they may only make exceptions for cultural reasons.
6.      How long will you have the space?
Your wedding day is much more than a ceremony and reception.
Your vendors need to set up, and you need to get ready for the big day.
You'll also want to hold a ceremony rehearsal, typically the night before the wedding. While touring a wedding location, determine how early your vendors can arrive and when the wedding planner or coordinator can start decorating the space.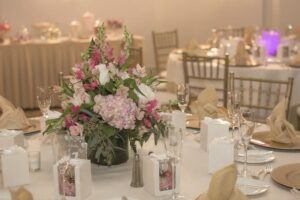 If you need more time for set-up, ask if you can extend your rental and how much it would cost.
When researching a venue's site fee, find out if amenities like a rehearsal and getting-ready suite are included. If not, are they available as add-ons?
7.      What happens if your plans change?
If you've ever attended a wedding on a rainy day or know anyone who got married in 2020, you know that even couples who've thought of everything sometimes need to pivot.
If your sights are set on an outdoor wedding, find out how your venue handles inclement weather.
Will they provide a tent or backup space indoors? Avoid unwanted surprises by asking about your venue's policy on rescheduling in the event of health concerns or a major storm.
8.      What else is there to do at my wedding venue?
Planning a wedding takes a lot of work. While you want to be thorough when researching wedding venues, don't let the daunting decision distract you from what a wedding truly is: a fun party with your closest family and friends.
More and more, couples are looking beyond the ceremony and reception and planning whole wedding weekends, packed with mouthwatering meals and exciting excursions.
If you're looking to host an unforgettable wedding weekend in Orlando, Rosen Shingle Creek has you covered. Our hotel wedding venues feature stunning views that will add an air of elegance to your event and make your wedding pictures sparkle.
But we're more than a nice backdrop.
Our skilled event planning and catering teams will help you make your dream wedding a reality. We're home to award-winning restaurants perfect for your rehearsal dinner or farewell brunch.
Our location near International Drive makes it easy for guests to explore Orlando's theme parks and attractions over a long weekend.
And our spa, championship golf course, and nature trail will help you, your partner, and your loved ones create memories you'll always cherish.