All aboard — plans to bring Brightline train service to Orlando are chugging right along.
Construction has wrapped up on Orlando's Brightline station. If everything stays on track, the high-speed rail company will start offering service from Miami to Orlando International Airport (MCO) in summer 2023. Tickets are already on sale for dates between September 1, 2023 and January 7, 2024. From there, Brightline has plans to expand across Florida.
Here's everything you need to know before the high-speed train arrives in Central Florida.
What is Brightline?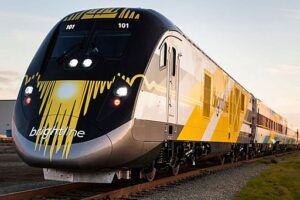 Brightline is a passenger rail line that has operated in South Florida since 2018. Each month, it takes over 100,000 passengers between Miami, Fort Lauderdale, and West Palm Beach.
Each train features spacious seating, free Wi-Fi, and ample power outlets. Snacks, soft drinks, and alcoholic beverages are sold on the train and at each train station. Riders can also purchase premium seating. This upgrade comes with free food and drinks, priority boarding, and access to an exclusive lounge at each train station.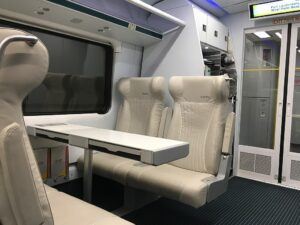 The fleet uses carbon-neutral biodiesel, making the route perfect for eco-conscious travelers.
What does Brightline have planned for Central Florida?
Brightline spent 2022 and early 2023 constructing and testing the 170-mile route between South Florida and Orlando.
Once train service to Orlando starts, the company shows no signs of pumping its brakes. The company is finalizing plans to expand westward to downtown Tampa. On the way to the Bay, the train will stop near the Orange County Convention Center and Walt Disney World.
This "Sunshine Corridor" will likely also connect to SunRail, a regional train line that stops in fun destinations like Lake Eola Park and Winter Park.
How long will it take to get between Orlando and South Florida on Brightline?
Brightline will travel at speeds of up to 125 mph, getting riders between MCO and downtown Miami in about 3 hours.
Driving between these two cities would take 3.5 hours without traffic. But since I-95 and Florida's Turnpike are two of the busiest roads in the U.S., the drive is usually longer. Brightline will allow travelers to skip the traffic jams while enjoying scenic views of meadows, marshes, and rivers.
How much will Brightline cost?
A standard one-way ticket between Orlando and Miami will cost around $79. Riders will have the option of upgrading to premium seating, which comes with complimentary snacks and drinks, plus access to an exclusive lounge at each train station.
While you can buy your tickets at the  station, passengers who buy their tickets online can often find discounted rates.
Who should consider riding Brightline?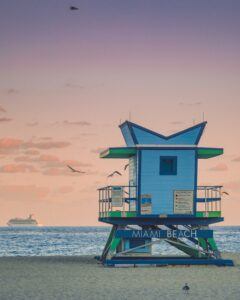 Everyone!
South Florida residents will be able to pop up to Orlando without waiting in a TSA line that takes longer than the flight itself. Guests vacationing in Orlando will have the chance to explore South Florida's beaches, restaurants, and museums without renting a car. And once the Sunshine Corridor opens, those flying into MCO will be able to ride Brightline from the airport to Orlando's top attractions.
Brightline is also ADA compliant and pet friendly, so the whole family can ride the rails together.
Full Steam Ahead for Rosen Shingle Creek
After your Brightline train pulls into the Orlando Airport, make Rosen Shingle Creek your next stop.
Our Orlando hotel has everything you need to keep your trip on the rails.
Rosen Shingle Creek's on-site dining options and theme park shuttles make it easy to have a car-free Orlando vacation. If the family dog is exploring Florida with you, they'll love our pet-friendly rooms and gorgeous walking trails. And if you're all about sustainable travel, our green practices will help you reduce your trip's environmental footprint.