July is the perfect time to enjoy ice cream in Orlando. Not only does the hot Florida weather lend itself to cool treats, but July is also National Ice Cream Month. Plus, National Ice Cream Day falls on the third sundae each year. In 2023, that's Sunday, July 16.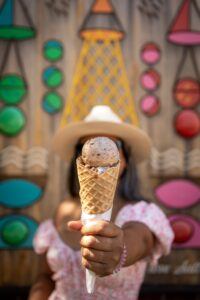 Whether you prefer soft serve, gelato, or traditional hand-scooped, there's a sweet spot for you in Orlando. And with many businesses catering to guests with dietary restrictions, everyone can scream for ice cream.
We've got the scoop on Orlando's top 10 ice cream parlors and creameries.
1.      Kelly's Homemade Ice Cream
Ice cream has always had a special place in Kelly Seidl's heart. While in school, she supported herself by scooping it. Now, she has ice cream shops and stands all over Central Florida.
Kelly's Homemade Ice Cream started with one location in Orlando's trendy Audubon Park neighborhood.
Her sweet scoops were a hit, and the business quickly expanded to neighborhoods like Winter Park, SODO, and Horizon West. She also struck up a partnership with local café chain Foxtail Coffee. As a result, you can also order Kelly's from counters at Foxtail's Dr. Phillips and Hunter's Creek locations.
The creamery offers a rotating lineup of flavors, including carrot cake, rose almond pistachio, cake batter, blondie brownie, and toasted coconut. Not sure what to order? Create a flight. Kelly's also sells classic cones, cups, sundaes, and shakes. And thanks to her pup popsicles, even the family dog can celebrate National Ice Cream Month.
2.      Greenery Creamery
A visit to Greenery Creamery is the cherry on top of a day trip to downtown Orlando or Sanford.
Since opening in 2018, this Orlando ice cream shop has taken pride in serving artisan treats made with local and organic ingredients. There's something for everyone at Greenery Creamery — the shop offers a range of dairy and plant-based flavors, some of which are gluten free. Go traditional with sweet cream or chocolate chip. Or try something new like black ash coconut.
Dairy and vegan ice cream cakes are also available.
And, like at Kelly's, the family dog can join the frosty fun with a pup cup.
3.      4C Creamery
Over in MetroWest, you'll find another shop that believes ice cream is for everyone: 4C Creamery.
The Ombao family opened their business in 2021, after their daughter was diagnosed with celiac disease and diabetes.
They wanted to give her, and others facing similar struggles, a place where they could safely enjoy ice cream. The store has a huge rotating selection of Hershey's flavors. On a given day, you may find yourself enjoying coconut, apple pie, raspberry, peanut butter, or salted caramel brownie ice cream. Gluten-free cones and ice cream sandwiches are available. The creamery also offers dairy-free sorbet, Italian ice, and oat milk dessert options.
Business travelers take note. The 4C Creamery team offers sundae kits for corporate events, with two or four pints and assorted toppings.
4.      Twistee Treat
Florida-based chain Twistee Treat is a soft serve lover's paradise. Even the company's buildings are shaped like chocolate-topped cones!

Twistee Treat opened its first stand in 1983.
Today, they have locations all over Central Florida, including in Celebration, Clermont, and Orlando's SODO neighborhood. Each one has a variety of classic flavors, such as vanilla, German chocolate, mint, and butter pecan. Enjoy your favorite flavor on its own or in a shake, sundae, or float. Or make your visit even sweeter with a waffle cone taco or ice cream sandwich.
5.      Rita's Italian Ice & Frozen Custard
For more soft serve delights, visit Rita's Italian Ice & Frozen Custard. The beloved mid-Atlantic brand broke into the Florida market in 2016. Now, it has locations on International Drive and in Lake Buena Vista, Winter Garden, and Kissimmee.
As the name implies, Rita's specialty is Italian ice, in varieties like cherry, root beer, Swedish Fish, cotton candy, and blue raspberry.
Most Italian ice flavors are dairy free.
The chain also sells smooth soft serve and hand-scooped custard. In addition to traditional vanilla and chocolate flavors, you can enjoy options like birthday cake, banana, Oreo cheesecake and coffee. For the full Rita's experience, order a Gelati (which layers your choice of Italian ice and custard flavors into one cup) or a Misto (which blends the two together).
6.      Abracadabra Ice Cream Factory
Ice cream is already a magical food. But Kissimmee's Abracadabra Ice Cream Factory takes the sorcery to the next level.
Upon arriving at this ice cream shop near Orlando, you'll pick a milk base, flavor, and toppings. Then, watch as Abracadabra's wizards mix your selections together and flash-freeze your treat in front of you. Low-fat, sugar-free, and lactose-free options are available.
Abracadabra also sells family-friendly entrees like pizza, sandwiches, and wings. After you're done eating, take the kids to the on-site bounce house, free for guests 12 and under with your purchase.
7. Florean Fortescue's Ice Cream Parlour
The magic continues at Florean Fortescue's, a Harry Potter-themed creamery in Universal Studios Florida.
In the book series, Harry and friends make a stop there whenever they go back-to-school shopping.
The Universal replica is best known for its fan-favorite butterbeer ice cream, served in a waffle cone or souvenir glass. Potterheads also have their pick of other soft-serve and hand-scooped flavors. Many, like clotted cream, Earl Grey, and sticky toffee pudding, are inspired by Harry Potter's native England. Strawberry, caramel, and hot fudge sundaes are also available.
8.      Salt & Straw
You'll also find your favorite sweet treat at Walt Disney World Resort.
Oregon-based creamery Salt & Straw opened its first Orlando outpost in 2022.
Conveniently located in Disney Springs, Salt & Straw offers time-tested flavors like double-fold vanilla and chocolate brownie. You'll also find experimental options like strawberry cilantro lime cheesecake and black olive brittle with goat cheese. Salt & Straw frequently partners with regional businesses to come up with new flavors.
For instance, its Florida locations serve mango habanero sorbet infused with a Miami-brewed IPA. You'll also find guava ice cream made in collaboration with Audubon Park's Salty Donut.
9.      The Soda Fountain
With its classic egg creams, floats, and sundaes, the Soda Fountain is the perfect place to relive your childhood.
Then again, it's also the perfect place to shake things up with a boozy concoction.
The Soda Fountain has two Orlando locations, one in the Conway neighborhood and the other in College Park. Ice cream connoisseurs of all ages flock there for fun flavors like coconut, toffee, and cherry. The 21+ crowd can partake in options like a mocha Kahlúa milkshake or a Guinness float.
When you're on vacation, there's nothing wrong with eating dessert first. Still, if you'd rather start with a meal, each Soda Fountain location is connected to a hot dog shop.
10.  Creek Ice Creamery
On a hot Florida day, ice cream and a refreshing swim are a winning combination. At Rosen Shingle Creek, we know that well.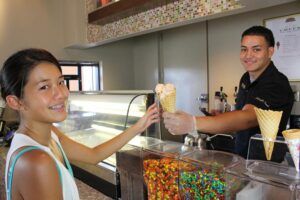 Our Orlando hotel is home to Creek Ice Creamery, a top-tier ice cream parlor footsteps away from our swimming pools. Our mouthwatering options include cappuccino chip, dulce de leche, and cookie. We also serve gelato varieties like vanilla, mint chocolate chip, and strawberry cheesecake. Whichever flavor you choose, it will go perfectly in a milkshake, float, waffle sundae, or indulgent donut sandwich.
Even better, we're close to Orlando's theme parks and major highways, making it easy to visit all the area's best ice cream parlors.