Imagine this: You've just had a great day in Orlando, park-hopping, shopping, or playing golf.
But now it's approaching dinnertime and everyone in your group is hungry. You're craving a burger. But your spouse has a taste for sushi. The kids are clamoring for pizza. Your vegan in-laws are traveling with you and want something other than salad.
At times like these, Orlando's many amazing food halls are perfect for pleasing everybody.
What is a Food Hall?
A food hall is a locally focused take on a traditional food court.
Food halls serve a wide range of cuisine via different food stands, which share a common dining area. They may also house other small businesses like boutiques, microbreweries, or artisan meat and cheese stands. Many food halls also serve as community spaces, with live music, pop-up shops, and lawn or board games.
Food halls allow you to experience Orlando like a local while eating inspired dishes.
Best Food Halls in Orlando
Ready for a unique dining experience with something for everyone? Try one of these great Orlando food halls.
Marketplace at Avalon Park
Avalon Park is a walkable east Orlando neighborhood. Its location off the Beachline Expressway makes it a perfect stopover on the way back from Cocoa Beach. While you're there, check out the Marketplace at Avalon Park. This Orlando food hall features everything from New Orleans classics to charcuterie boards, plus Bowigens Beer Company brews and locally roasted coffee.
Before you leave, be sure to check out Avalon General. The store sells artisan jams, olive oils, and hot sauces alongside locally made home décor and unique gifts.
Hourglass Social House
Hourglass Social House is in the Hourglass District, an up-and-coming neighborhood in the heart of Orlando. The building was featured on Architectural Digest's list of America's most beautiful converted gas stations.
This small-but-mighty Orlando food hall is a craft beer lover's dream, serving up all kinds of local brews. Food options include Tamale Co. Mexican Street Food, Leguminati (a vegan restaurant known for its crunchwraps), and Le Ky Patisserie (banh mis and other Vietnamese cuisine). If you're looking for a quick bite, stop by Foxtail Coffee Co. for some fresh baked goods.
East End Market
East End Market is in Orlando's hip Audubon Park district, minutes from beautiful Leu Gardens. The two-story marketplace is surrounded by lush, native landscaping and vegetable gardens.
Options in this Orlando food hall include DOMU (a full-service ramen spot that makes its own noodles), Farm & Haus (which serves up healthy takes on classic comfort food), and Winter Park Biscuit Company (whose plant-based chicken sandwiches will even delight meat eaters).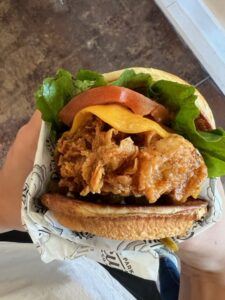 Once you're done eating, head upstairs to Neighbors Bar to enjoy a craft cocktail or to shop for locally made keepsakes.
Gatlin Hall Brewing
As you might expect, Gatlin Hall Brewing's main draw is the wide selection of beer brewed on-site. This food hall, located south of downtown Orlando, has everything from IPAs to sours.
Gatlin Hall also has great food options, including poke bowls, wood-fired pizza, burgers, and sandwiches. Sit inside and watch one of the hall's flat-screen TVs, or head outside to their large, dog-friendly patio for a game of table tennis or cornhole.
Boxi Park
Boxi Park, located in Orlando's Lake Nona neighborhood, is a cross between a food hall and a food truck festival.
At this large outdoor venue, step up to a repurposed shipping crate to place your order. These food stands serve tacos, lobster rolls, chicken sandwiches, sushi, burgers, and ice cream. Diners 21 and older can also enjoy wine, beer, and cocktails from stands throughout the courtyard.
The fun doesn't stop when you're done eating. With a playground, volleyball courts, and a dog park, Boxi Park is a perfect place for families to spend an afternoon.
The Hall on the Yard
The Hall on the Yard is in Orlando's trendy Ivanhoe Village. It combines the variety of a traditional food hall with the quality service of a sit-down restaurant.
Take your seat in the gorgeous dining room and a server will wait on you, delivering your selections from nine food vendors and three on-site bars. Culinary options include Chef & I (American fusion), True Island Cuisine (Caribbean), Humbl (plant-based), and Spice Affair (Indian). When you're done, you can hang out in the gorgeous lawn area outside.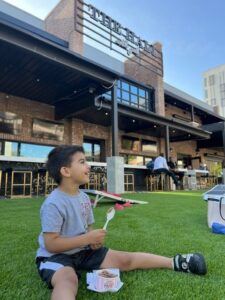 Unlike some of the other food halls on this list, this unique Orlando venue also rents private rooms.
Plant Street Market
West of Orlando on the shores of Lake Apopka you'll find Winter Garden, and Plant Street Market, a sizable food hall with live music, a pet-friendly patio, and an impressive variety of eats.
Vendors include Mac'd Out (which offers gourmet mac and cheese made with fresh pasta), Empanadas & Co. (serving Ecuadorian style empanadas), and Ceviche Mix (which sells shrimp and whitefish ceviche).
The market is also home to Crooked Can Brewery, which offers tours every Sunday.
Rosen Shingle Creek – A Haven for Foodies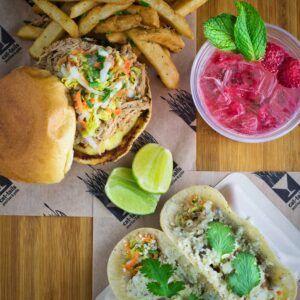 If you're all about culinary variety, Rosen Shingle Creek is the Orlando hotel for you.
Dining options include our award-winning steakhouse A Land Remembered, Cala Bella's Tuscan finest, and the fresh poolside offerings at Cat-Tails Pool Bar & Grille. In addition to seven full-service restaurants, Rosen Shingle Creek is home to a luxurious lounge, impeccably decorated buffet, café, creamery, and 24-hour market.