Each month, the Dr. Phillips Center for the Performing Arts enchants Orlando tourists and locals with top-notch concerts, theater productions, and comedy shows.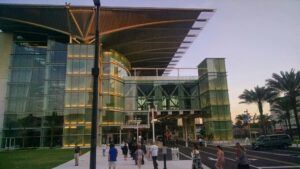 If you're headed to Orlando this spring, take a break from your vacation or conference to enjoy a show. Here are the amazing acts you can see at the downtown Orlando venue in April 2023.
Ricardo Montaner: 2023 Tour
Ricardo Montaner will take the Dr. Phillips Center stage on Saturday, April 1, at 8 p.m.
The soap actor and Latin pop superstar was born in Argentina and grew up in Venezuela, where he sang in his church's choir.
Montaner released his first single, "Mares," in 1976. He spent the late '70s and early '80s touring around South America as he tried to secure a record deal. In 1983, he released his first album, Cada Día. It was a moderate hit, but only in Venezuela. His next two albums, however, were massive hits across Latin America. These LPs featured songs like "Tan Enamorados," "A Donde Va el Amor," and "Sólo con un Beso."
As Ricardo Montaner's star rose in the '80s, he acted in the telenovela Niña Bonita.
He also sang the theme songs for the shows Esa Muchacha de Ojos Café and Heridas de Amor.
Since then, Montaner has continued releasing hits. While Latin ballads remain his specialty, he's dabbled in genres like Europop and country-tinged Tejano tunes. In 2016, he won a Lifetime Achievement Award at the Latin Grammys.
Tickets to see Ricardo Montaner at the Dr. Phillips Center start at $59.99
Chicago: 25th Anniversary Tour
This April, the name on everybody's lips is gonna be…the Dr. Phillips Center.
As part of the AdventHealth Broadway in Orlando series, the touring cast of Chicago will take the stage from April 18 – 23. Showtimes vary.
The theater production tells the story of Roxie Hart, an aspiring showgirl who finds fame, and infamy, while on trial for killing her boyfriend, Fred Casely. Roxie's youthful demeanor and flapper fashion sense soon make her a media darling. While in jail, she tries to befriend star singer Velma Kelly, who is facing a murder trial of her own.
Chicago is a musical adaptation of a 1926 play written by an Illinois journalist who covered criminal cases.
It debuted in 1975 and is the second longest-running Broadway show to date. Songs like "All That Jazz," "Cellblock Tango," and "Razzle Dazzle" have become musical theater classics. Through the years, Chicago has won six Tonys and a Grammy Award.
The film adaptation starring Renee Zellweger, Catherine Zeta-Jones, and Richard Gere won best picture at the 2003 Oscars.
Tickets to see Chicago in Orlando will go on sale soon.
The Daughter of the Regiment
Impressive operatic vocals will soar throughout the Dr. Phillips Center on April 21 and 23, 2023.
That's when Opera Orlando will perform The Daughter of the Regiment in Steinmetz Hall.
The opera follows Marie, a tomboyish orphan raised by a French army regiment. As an adult, she manages the regiment's base camp. When her wealthy biological family finds her, they attempt to socialize her into high society and marry her off to a duke. Longing for her old life, Marie tries to track down her battalion and her true love, Tonio.
The Daughter of the Regiment debuted in Paris in 1840. It was Italian composer Gaetano Donizetti's first French-language show.
The opera is best known for the aria "Ah! mes amis, quel jour de fête!"
This song is difficult for even the most talented tenors. Among the many singers who have stepped up to the challenge was Luciano Pavarotti. His version helped Pavarotti find global fame in the 1960s and introduced a new generation to the show.
Tickets to see the opera start at $19.
Mary Poppins
Have a supercalifragilisticexpialidocious time at the Dr. Phillips Center when Mary Poppins takes the stage this spring.
The show will run from April 22 – 23 in the Alexis & Jim Pugh Theater. Matinee and evening shows are available.
Mary Poppins is a stage adaptation of the 1964 Disney movie, which in turn was based on a book series by P.L. Travers. It tells the story of the Banks family, whose children Jane and Michael have scared away nanny after nanny. When their parents hire Marry Poppins, she helps bring the family together through a combination of childcare know-how and magic. The show features classic songs like "A Spoonful of Sugar," "Chim Chim Cher-ee," and "Let's Go Fly a Kite."
The play premiered in London's West End in 2004 and made its way to Broadway 2 years later. These productions won two Olivier Awards and a Tony.
Tickets to see Mary Poppins in Orlando start at $20.
Scott Bradlee's Postmodern Jukebox
Enjoy a blast from the past on Monday, April 24, at 8 p.m.
That night, Postmodern Jukebox (PMJ) will add a vintage twist to your favorite Top 40 hits.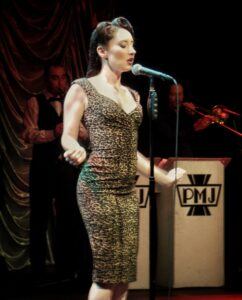 In the late 2000s, Bradlee was a struggling musician living in Queens. He and his friends would record videos of themselves singing big-band covers of pop songs for fun. They started posting their performances on YouTube, and their videos went viral in 2009. In 2011, the group adopted the name "Postmodern Jukebox" and started working on a self-titled EP. By 2014, PMJ had put out that EP plus five full-length albums.
Through the years, PMJ has released a total of 26 LPs.
They've done jazz and ragtime renditions of everything from "Timber" by Pitbull and Kesha to "We Can't Stop" by Miley Cyrus.
Get into the swing of things when Postmodern Jukebox takes the Walt Disney Theater stage. Tickets start at $34.50.
A Streetcar Named Desire
From April 27 – 30, enjoy a stella(r) dance adaptation of A Streetcar Named Desire in Steinmetz Hall.
The Orlando Ballet will perform their rendition of the Pulitzer-winning play by Tennessee Williams. The show follows Blanche DuBois, a down-on-her-luck Southern belle. After losing her home and job in Mississippi, she moves to New Orleans to live with her little sister, Stella, and Stella's husband. She clashes with her brother-in-law while trying to come to terms with her past.
The 1947 play has been made into a ballet multiple times.
The Orlando Ballet will perform the feminist version first staged by Annabelle Lopez Ochoa for the Scottish Ballet in 2012.
Tickets to see Streetcar at the Dr. Phillips Center start at $29.
Druski: Coulda, Woulda, Shoulda Tour
On Friday, April 28, at 8 p.m., comedian and Internet personality Druski will bring the laughs to the Walt Disney Theater.
Drew "Druski" Desbordes grew up in the Atlanta suburb of Snellville, GA.
His upbringing in this diverse town helped Druski create his many online personas. Among his most famous characters are frat boy Kyle Rogger and a nameless, ruthless record exec.
Desbordes struggled as a college student and found himself watching YouTube for comfort. The days he spent binge-watching videos inspired him to create his own content. In October 2017, he started recording skits for Instagram. Since then, he has co-starred in the YouTube stunt show The Guys. He's also appeared in music videos for music superstars like Lil Yachty, Drake, and Jack Harlow.
Tickets to see Druski at the Dr. Phillips Center start at $36.75.
Steve Martin and Martin Short: "You Won't Believe What They Look Like Today! Tour"
The jokes will keep coming to the Dr. Phillips Center on Saturday, April 29.
Steve Martin and Martin Short will hit the stage a 3 p.m. and 8 p.m. in hilarious stand-up shows.
The two met in 1986 while filming ¡Three Amigos! with third amigo Chevy Chase. By then, the two had both established themselves as comedy pros. They quickly became friends. Today, you can see them as co-stars on the TV show Only Murders in the Building alongside Selena Gomez.
Steve Martin grew up in LA and, as a young adult, enrolled in UCLA's philosophy program.
While he eventually switched to a theater major, his first course of study helped him develop his signature style of anti-comedy. His work frequently makes fun of comedic cliches like contrived punchlines. In 1967, he left UCLA and took a writing job on the Smother Brothers Comedy Hour. This role led to him performing bits on late-night TV. It also helped him land roles in films like The Jerk and Roxanne in the '70s and '80s.
Through the years, Steve Martin has won five Grammys and an Emmy, plus an honorary Academy Award.
Like his co-star, Martin Short started college with a very different career plan.
Short completed a bachelor's degree in social work from McMaster University in Canada. After graduation, however, he fell in love with acting after being cast in a production of Godspell. This role helped him find work on a few sitcoms and on the Canadian sketch show SCTV. In 1984, he left SCTV for a role in Saturday Night Live. Since then, he's appeared on shows like Mulaney and Arrested Development.
Disney fans may know him for narrating O Canada!, an EPCOT attraction that ran from 2007 until 2019.
Tickets to see Steve Martin and Martin Short at the Walt Disney Theater start at $69.50.
Rosen Shingle Creek: Your Home Base for Dr. Phillips Center Shows
After the curtain closes and the house lights come up, head back to your luxurious guestroom at Rosen Shingle Creek.
Our Orlando hotel is located near International Drive and close to major highways that lead to the Dr. Phillips Center. When you're not enjoying world-class entertainment in downtown Orlando, have a blast at our on-site restaurants, golf course, nature trail, and spa.